Aop3D
Regular price
$200.00 USD
Sale price
$60.00 USD
Unit price
per
Sale
AOP3D TECH #1 IN TECH SUPPORT & KINDNESS :)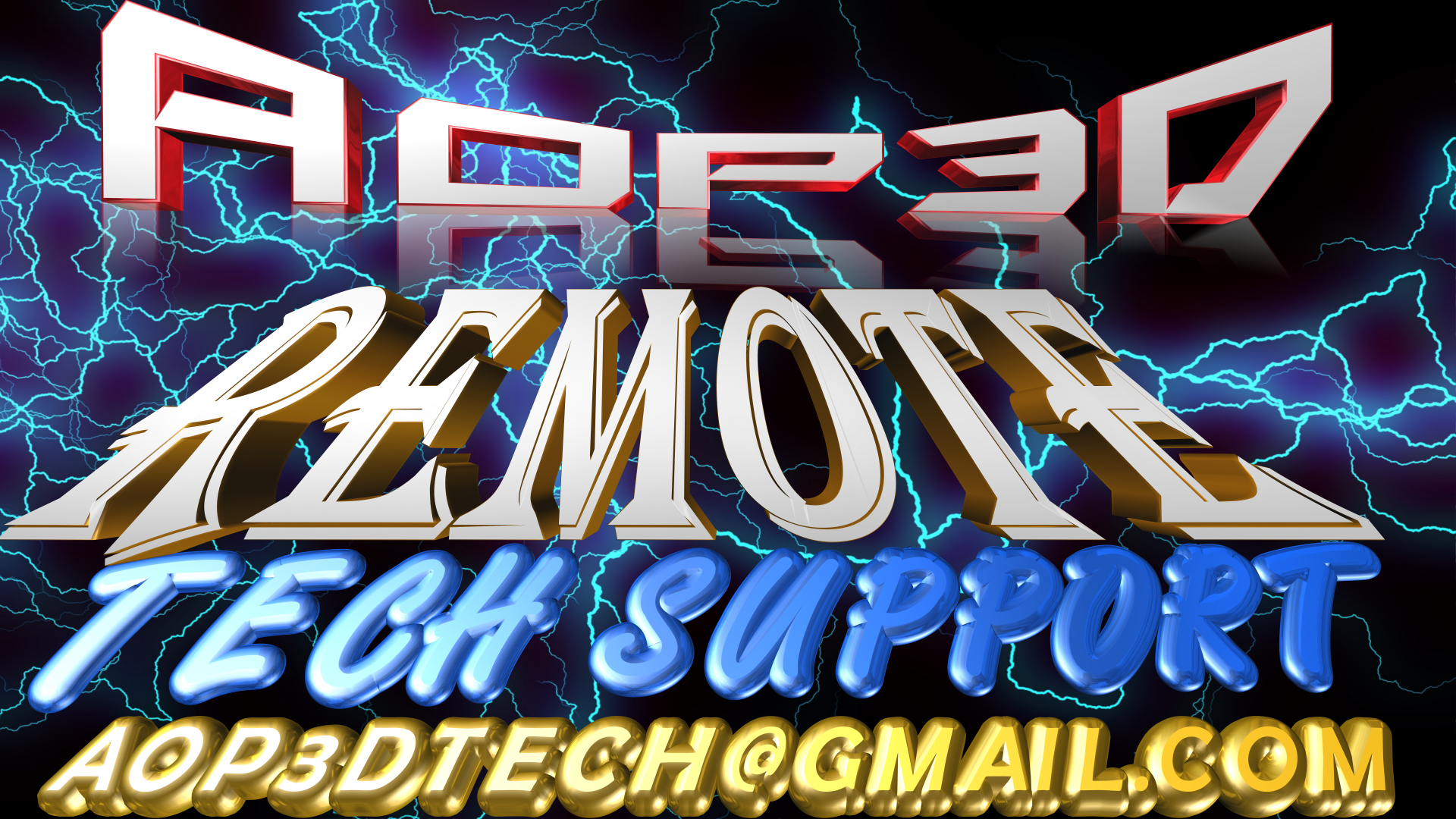 aop3d unlimited tech support yearly!
$600.00 - $2,500.00
Buy now
Remember: AOP3D REMOTE TECH SUPPORT is like insurance. You will want it the most when you don't have it.
 AOP3D UNLIMITED REMOTE TECH SUPPORT ( SUBSCRIPTION) 60 DOLLARS A MONTH NOTHING MORE NOTHING LESS!
 instore or by remote, it's 60 for the month, and you are covered with whatever tech issue you may come across :) 
The best deal in tech support easily !! read all the wizardly magic !!!!!!
What do you get with our unlimited tech support

service subscription!?
(with the subscription plan only) you get the following perks from AOP3D
the most important thing you get with this service is T

he wizard tech! the wizard is highly skilled in all operating system platforms from windows os to mac osx to chrome os to ios and android! you will have the peace of mind that you will have 

the wizard on standby 365 days a year 7 days a week from 9 am to 7 pm :) and emergency remotes are always an option!
unlimited everything tech support we mean anything and everything if it can be done remotely or in-store !then it is included in your 60 dollars a month plan! Even if you don't need us all the time the value this plan offers pays for its self just think about it!!!
NEED HELP CONVERTING THAT WORD DOC TO A PDF OR VICEVERSA WE CAN HELP YOU DO THAT!



NEED AN EMAIL ATTACHMENT SAVED TO YOUR DESKTOP OR ANOTHER LOCATION JUST DON'T KNOW HOW TO SAVE IT PROPERLY WE GOT YOU!
DO YOU NEED THOSE 30 THOUSAND PICTURES TRANSFERRED FROM YOUR PHONE TO YOUR COMPUTER WE CAN HANDLE THAT!
DID ONE OF YOUR EMAIL, ACCOUNTS DECIDE TO STOP WORKING IN THE MIDDLE OF A BUSINESS DEAL? IT'S OUR BUSINESS TO GET YOU BACK IN BUSINESS!
WITH AOP3D UNLIMITED TECH SUPPORT SUBSCRIPTION SERVICES YOU WILL HAVE A WIZARD AT YOUR DISPOSAL FOR NOTHING MORE NOTHING LESS THAN 60 DOLLARS A MONTH !!!!!!!!
60 DOLLARS A MONTH GETS YOU LIMITLESS HOURS LIMITLESS TIME LIMITLESS SUPPORT VIA REMOTE CONNECTION ANY TIME ANYWHERE ON ANY DAY!
ARE YOU TOTALLY BLOWN AWAY BY HOW INCREDIBLY AWESOME THIS DEAL SOUNDS ALREADY? WELL HOLD ON TO YOUR RUBY SLIPPERS CUSS THERE'S NO PLACE LIKE HOME! you also get the following perks with our subscription!!!
in-store discounts! 20% off everything tech support-related!

free yearly virus protection from aop3d! never pay for virus protection again!

You get free pc and Mac tune-ups every month!

You will get your windows pc and Mac drives optimized and defragged for you every month!

you will get virus software for free forever we will renew them for you every year!

Aop3d will provide higher-priority support to subscription subscribers! get your tech issues solved even faster! ( available from 9 am to 7 pm 7 days a week)

and much much more with this subscription!

IF INTERESTED EMAIL US AT AOP3D.COM@GMAIL.COM

OR TEXT 781-507-1606
60 dollars a month unlimited remote tech support all year round‼️‼️

The most valuable thing in life is, time! you can never get it back and can never get more. The only thing you can do is save time! Allow us to help you save as much of it as possible with AOP3D remote tech support services!


 
 
We are here for you when others aren't! 7 DAYS A WEEK 365 DAYS A year from 9 am to 7 pm) .


With AOP3D remote services you can save money, and time, and save yourself stress knowing we can help you from anywhere in the WORLD.
We can help you with virtually anything on your mac or Windows-based pc. as long as you can connect to the internet and get into your computer we can take care of the rest for you!

Our remote support service is different.  Why is it different you may ask? Well, it's different because we charge you a flat rate of 60 dollars for the remote regardless of the number of things we do within that time frame of one hour! during the remote. For example, if we can get 10 different things done for you within that single hour of the remote your total will still be 60 dollars :) so no need to worry about how many different things you have us do or how long it will take.
We promise! we will only charge you a one-set fee of  60  dollars and not a penny more
( FOR THE MONTH PER MONTH !)
. We take your security seriously, and we only use the most trusted remote support services around to offer you a safe and secure connection to your computer.
You can trust us because we are a legit business located in the heart of
ROCKPORT Massachusetts AT 34 BEARSKIN NECK.
 Save yourself the trouble of calling someone to your business or house and having them take hours to get there or deal with the occasional no-show people. The guys at AOP3D will have the job done before you even dial the number.
you can trust our company 100% we are as legit and safe as we say we are if you need more proof check out our profiles by clicking on any of the social links below :) 




AOP3D POWER TO THE USER!
WANT TO VIEW US ON GOOGLE MAPS?   CLICK HERE! 

Face book  
Pinterest 
 

we love to make things easy so if you need to cancel for any reason at all just email us or text us and that's it :) we make things easy because that's what we do :)
 

aop3d unlimited tech support subscription!
$60.00
Pay now
Share
View full details